CIOs everywhere struggle with the same old challenges

Stunted innovation
Innovation and digital transformation take too long and don't keep up with the pace of change.

Unpredictable IT costs
Overall IT costs are too high and unpredictable, with systems and solutions duplicated across the enterprise.

Low productivity
Employees spend too much time on low-value admin tasks, reducing overall enterprise productivity.
Why IFS assyst?
Watch this video to find out the 8 reasons why leading organizations are choosing IFS assyst.
What can you do with IFS assyst?

Connect your IT 
Connect all your IT tools in one place, giving you the visibility and control you need.

Reduce cost
Bring your ITSM costs down to an absolute minimum with a simple enterprise subscription.

Maximize productivity
Increase productivity and innovation by giving end users tools they'll want to use.

Reduce admin
Deliver self-service automation across the enterprise and get more out of your enterprise resources.

Destroy silos
Bring your people together with tools that enable easier collaboration and encourage positive actions.

Empower your workforce
Help everyone help themselves with user-friendly technology that can assist them with their most pressing issues.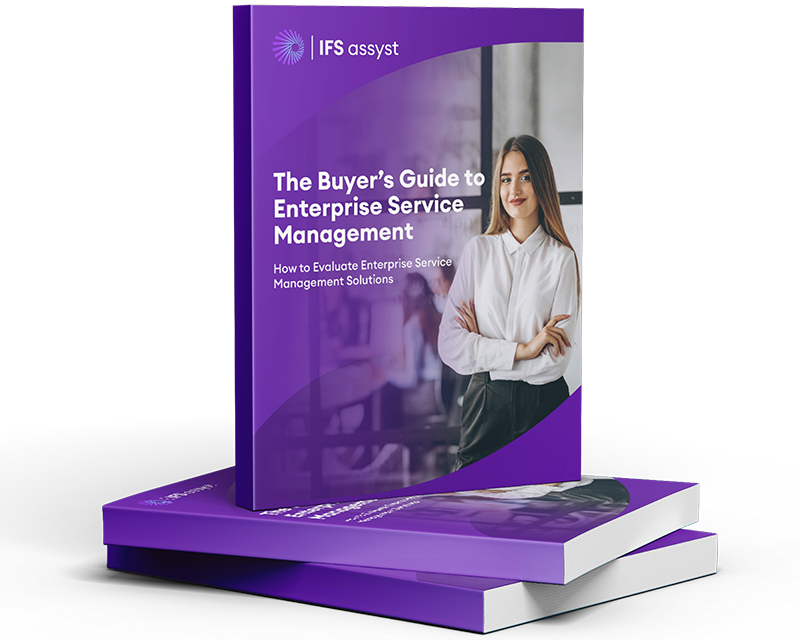 Download our new Buyer's Guide to Enterprise Service Management
How to Evaluate Enterprise Service Management Solutions
What made the implementation process so seamless was the level of communication from the consultants.

Mark Hall

Creditsafe

The key factor in choosing assyst was the comprehensive functionality of the software and the combination of all ITIL processes in one solution.

Jörg Liebethal

KSB
Solutions for your industry
Telecommunications, Media & Technology

Healthcare & Life Sciences
See it in action with your own POV
You're live! Welcome to your Moment of Service