HR teams everywhere struggle with the same old challenges

Poor employee experience
Overly manual processes mean that appraisals, expenses and provisioning processes take too long - and often get forgotten.

Always stuck on the back foot
HR teams spend so much time putting out fires and responding to reactive requests that they don't have time to think strategically.

Lack of time and intense workloads
Intense admin workloads mean that HR teams spend too much time filing invoices and responding to emails.
IFS assyst in action.
Give your HR teams the power to do what they do best: delivering a great employee experience
Take a managed approach to HR services

Resolve issues fast
Automate tasks where possible, allowing for faster working and solve requests quicker.

Simplify processes  
Streamline and simplify processes, allowing for a better employee experience across HR and beyond.

Increase efficiency 
Enable self-service requests for basic admin tasks, freeing up your time for the work that matters.

Provide space for strategy 
A bird's eye view means teams don't have to resolve every request immediately - providing space for strategic working.

Make work visible
Rich reporting makes it easy to see and manage HR workloads.

Encourage collaboration
Gamified collaboration makes it easier for HR teams and business stakeholders to work together.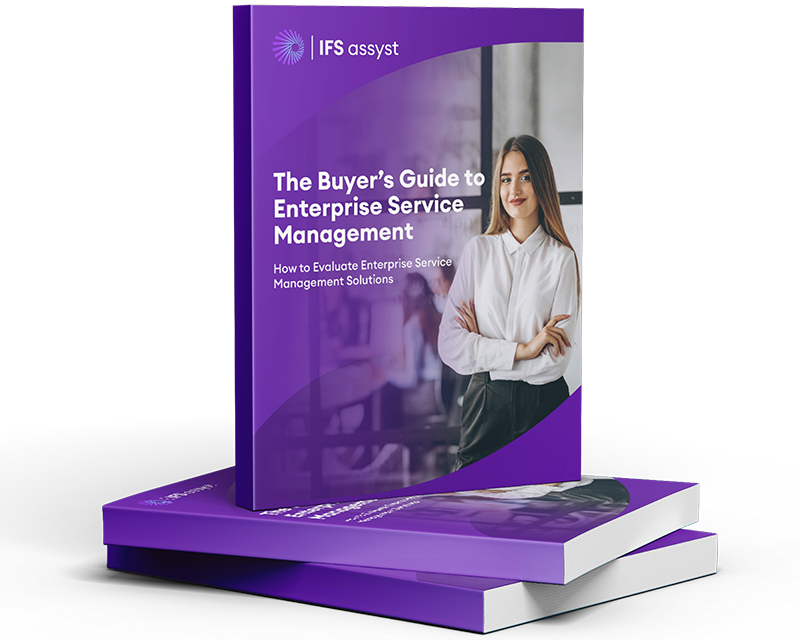 Download our new Buyer's Guide to Enterprise Service Management 
How to Evaluate Enterprise Service Management Solutions
"The assyst process workflows allow us to implement the solution right across the business."

Robert Herring

MMG

"assyst self-service has increased our customer satisfaction through providing Dubai Courts with an efficient and streamlined process."

Zahra Al Sharif

Dubai Courts
Professional Services

Telecommunications, Media & Technology

Healthcare & Life Sciences
See it in action with your own POV
You're live! Welcome to your Moment of Service