Service teams everywhere struggle with the same old challenges

Unnecessary admin
Repetitive, laborious administrative tasks mean teams spend too much time putting out fires.

Poor Visibility
Service teams don't have a bird's eye view of service requests, which means important tasks too often fall off the radar.

Lack of agility
Legacy tech means service teams have to be at the desk to view requests - which prevents them from resolving issues on the go and in the field.
IFS assyst in action.
Increase visibility, boost collaboration and save time with IFS assyst service desk solutions
Same service desk, less stress

Reduce admin
Automate your service desk so you can eliminate unnecessary admin and stop drowning in low-value tasks.

Enable self-service  
Give end users the power to find simple solutions to their issues, so you don't have to.

Boost service experience 
Bring all requests into one window so requests can be resolved quickly – and nothing gets forgotten.

Deliver remote access 
Give your service teams the freedom to view and resolve requests from anywhere, at any time.

Decrease repeat calls
Divert up to 80% of calls from the service desk with easily accessible service tools.

Gain useful insights
Real-time IT data analysis push useful insights to the agents, helping resolve issues quicker.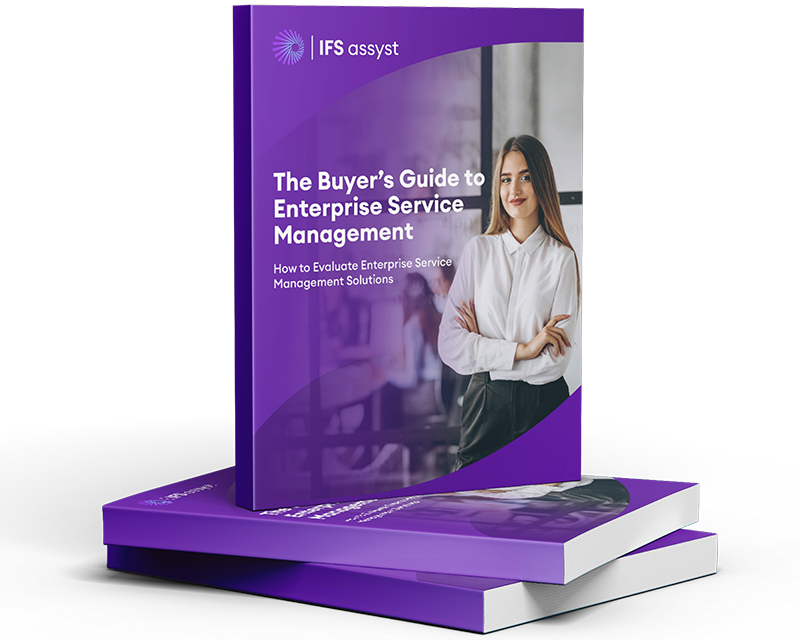 Download our new Buyer's Guide to Enterprise Service Management 
How to Evaluate Enterprise Service Management Solutions
assyst helped us gain a £3.1million benefit to the business through the tracking and facilitation of over 500 customer-focused service improvements.

UK's Largest Online Retailer 

assyst enabled the Department of Conservation to move to electronic management of over 200 services from 14 internal service providers.

Peter Noble

Department of Conservation
Solutions for your industry
Telecommunications, Media & Technology

Healthcare & Life Sciences
See it in action with your own POV
You're live! Welcome to your Moment of Service