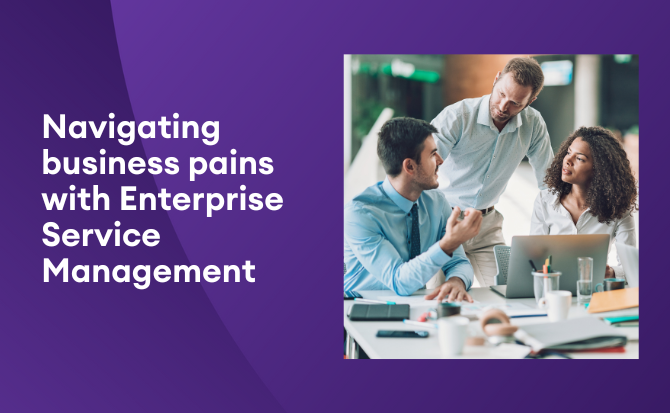 Are business challenges holding back your organization's potential?
Do inefficiencies, misaligned departments, and customer dissatisfaction impede your growth?
Enterprise Service Management (ESM) is the key to unlocking your organization's success by transforming the way you operate. Dive into this comprehensive guide that explores the power of ESM in addressing modern business pains and driving enhanced productivity and collaboration.
Key takeaways from the eBook:
Explore the definition and components of ESM, its evolution, and how it differentiates from traditional ITSM
Discover solutions for inefficient workflow, asset management issues, poor experiences, and compliance challenges
Learn how ESM connects departments, drives efficiency, boosts satisfaction, and realizes cost savings
Explore tactics for building cross-functional teams, managing customization, and overcoming resistance
Gain insights on tackling resistance
Read case studies of organizations that transformed their operations using ESM
Get a glimpse of emerging trends, AI integration, and ESM's role in digital transformation
Learn about assessing readiness, setting objectives, creating an implementation plan, and continuous improvement
Understand how IFS assyst addresses common business challenges through automation, collaboration, and improved service delivery
Download the eBook and start redefine your organization's future with Enterprise Service Management today.